autumn Wedding Portugal | A Forma
We photographed this dreamy Autumn Wedding Portugal!! Now let's tell you how inspiring the day was, with incredible suppliers and give you 10 reasons to make your dream of getting married in the season of the most beautiful and warm colors ever!
The Venue – Paulo Neves Escultor
Wedding Planners – Bad Bad Maria
The Wedding Dress – Jesus Peiro
Wedding Jewels – Leão Creative
Wedding Make Up – Andrea Souza
Wedding Stationary – A Pajarita
Wedding Flowers – O Filho da Rosa
Wedding Cake – Bakewell
Wedding Photography – Lovati Photography
Wedding Film – Sublime Films
1 - Paulo Neves Escultor | Autumn Wedding Portugal
The whole idea of this autumn wedding Portugal was developed from this place that is in the north of Portugal, in the village Cucujães. In a space that functions as a studio and to exhibit Paulo Neves' works of art. The shapes and forms of his work is what called our attention to make this beautiful story come true there.
The sculptor's work has a free spirit, his work is as organic as nature. It brings nostalgia for the primitive forms of nature. It seems very spontaneous, the beauty of the imperfect. It brings shape and meaning to a lot of what we were looking for and a lot of what is our photography. We were completely delighted with the space when we went there.
Not only the sculpture, but the exhibitions place (where the ceremony was held), the way the light is filled in there, the reflections, everything incredible and magical.
2 - Bad Bad Maria | AUTUMN WEDDING PORTUGAL
With a new look, this wedding was also idealized and coordinated by the wonderful Wedding Planners from Bad Bad Maria! They are Rita, Carla and Ines. With the proposal to create weddings from scratch and out of the conventional, these three come to revolutionize the market and inspire! If you are looking to get out of the conventional, if you want your big day to reflect your personality in a beautiful way, talk to them!
4 - Wedding jewels | Leão creative
The jewels could not have been other. Leão Creative has a beautiful autoral work with a collection inspired by nature. The earrings used here were inspired in the shape of a seed and the alliances also has a very natural shape. So inspiring! So Autumn Wedding Portugal!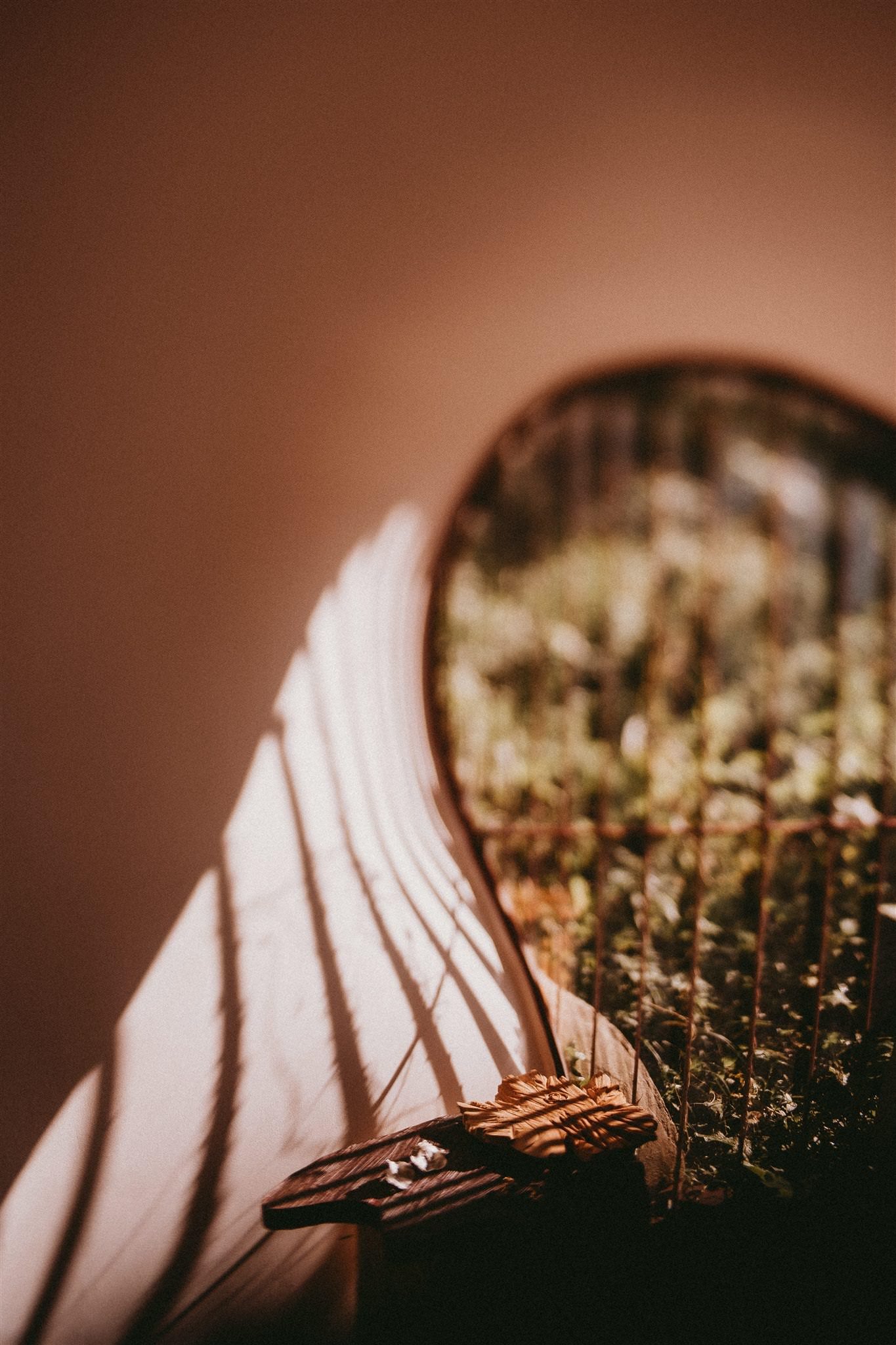 5 - Wedding Make Up | Andrea Souza
Andrea has a beautiful work and made our bride's natural beauty stand out even more!
6 - stationary | a pajarita
A Pajarita makes unique pieces in fineart printing and watercolor painting. We can see her creativity and sophistication in each project. In this project all pieces combined together with the shapes. All the colors match with Autumn Wedding Portugal
So beautiful!
7 - Wedding Flowers | O filho da rosa
Filho da Rosa has an incredible floral work. Following the inspiration of autumn, he used dried flowers, some collected personally in the wild. The place was already beautiful, so he chose to make small notes that reinforced the beauty of everything in a more minimalist way. Amazing!
8 -Portugal Wedding Cake | Bakewell
We are one of the biggest fans of Bakewell. She has an incredible work, inspired by nature with stunning beauty. The cakes are very different with incredible flavors, super light and moist, we have already tasted many flavors and even today we cannot say which one we like the most.
Her cakes are made from scratch, from jam to cream and of course, with very good energy and love. We recommend it with all our heart and her cakes are present in our personal celebrations and other editorials like this one.
9 - Wedding Photography | Lovati
For us to photograph this Autumn Wedding Portugal, was an unique experience. As wedding photographers, we are always inspired by other expressions of art and photographing in this incredible place was a mix of sensations, but above all a source of inspiration.
First of all we had the opportunity to work with incredible suppliers, people who, like us, are always creating new things and opened to the new.
And last but not least, being able to photograph at this venue was challenging in a very delicious way, in line with what we believe our photography to be, organic, light, free and spontaneous. A work that will remain forever in our memories as one of the most beautiful we have ever done.
Gratitude for this meeting! We trust that the Universe made this happen.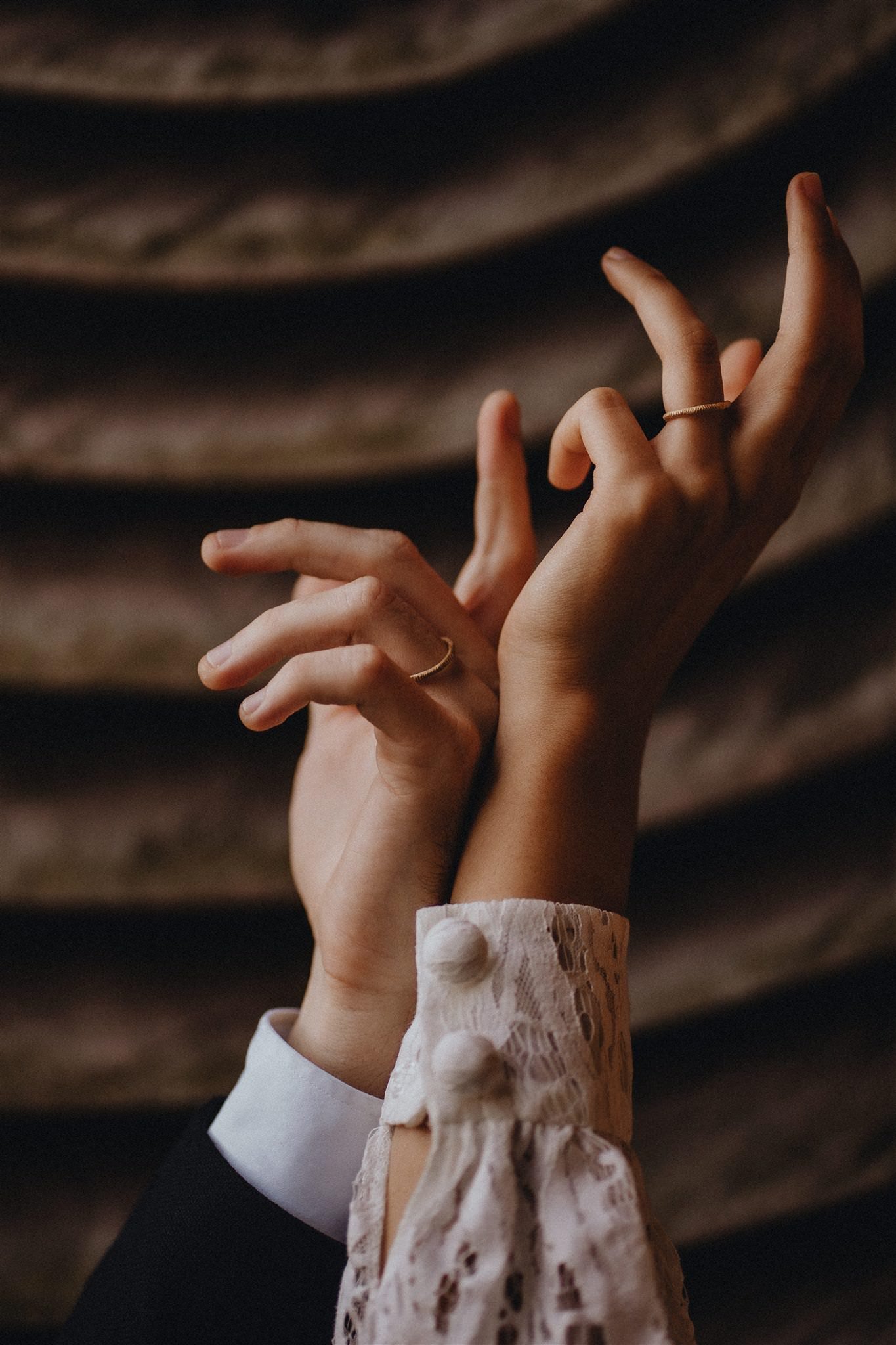 Then we had the opportunity to photograph two people who were available to surrender, to create, be part of that day's energy and further bring more beauty to everything. 
Even this being an editorial, we wanted to tell the story of an young couple, and show that it is truly possible to show who the couple are in their wedding day. So he singed and played guitar his own songs for her, she read her favorite poet for him and in the end they both had lay down to watch the night sky, the moon and the stars. It shows that a wedding can be wathever we want it to be. Telling our story and who we are.
Daniela and Gabe, thank you so much for being available, true and incredible!
We knew Daniela since WS steam steel and now we feel connected in a deep and beautiful way. It helps a lot to show her essence.
10 - AUTUMN WEDDING PORTUGAL | Sublime Films
It was an honor to us to work with Sublime Films. They don't create wedding videos, they create FILMS. Seeing what they did, we transported ourselves to that day with all the sensations. The photography and video complement each other to tell the story of a wedding and it was wonderful to tell that story with them.