Casamento na Quinta do Monte Redondo em Coimbra – Andre & Filipa
Esse casamento na Quinta do Monte Redondo nos marcou pra sempre!
This wedding at Quinta do Monte Redondo has marked us forever!
O que significa ser um Fotógrafo de Casamento
PT: Temos pensado muito sobre a responsabilidade, a importância, a magnitude de fotografar um casamento. Ouvimos de algumas pessoas, experiencias bem ruins com outros fotógrafos. O que nos espantou muito, já que no nosso casamento tivemos os queridos Marcelinos Fotografia e o Rodrigo de Paula e fomos muito bem tratados do início ao fim, além de uma relação de amizade que se construiu.
Voltando da ultima reunião que fizemos com a Filipa e o André, andando pela cidade do Porto, conversamos o que significa ser os fotógrafos do casamento daquelas pessoas. Em alguns dias estaríamos registrando um dos principais dias (senão o principal) da vida deles. O registro que será mostrado para os filhos deles, que os filhos mostrarão para os netos e assim por diante.
A conclusão que chegamos é que é grande, muito grande a responsabilidade de fotografar um casamento. E por isso, por empatia, somos obrigados a nos entregar completamente aos nossos noivos e ao casamento deles. Seremos sempre nós, Nathalia e Pedro presentes do início ao fim. Oferecendo o melhor de nós, a nossa fotografia expressada através de toda a nossa força criativa. A nossa alma, sempre.
Aqui está, o melhor de nós e claro, o melhor da Filipa e do André em seu casamento. Sorrisos, beijos, abraços e o Amor, muito AMOR!
EN: We have been thinking a lot about the responsibility, the importance and the magnitude of photographing a wedding. We have heard from some people very bad experiences with other photographers. Which amazed us a lot, since in our marriage we had the dear Marcelinos Fotografia and Rodrigo de Paula and we were treated very well from beginning to end, as well as a friendship that was built.
Returning from the last meeting we had with Filipa and André, walking around Porto, we talked about what it means to be the wedding photographers of those people. In a few days we would be recording one of the main (if not the main) days of their lives. The record that will be shown to their children, which the children will show to their grandchildren, and so on.
The conclusion we have come to is that there is a great, very great responsibility for photographing a wedding. And so, out of empathy, we are obliged to give ourselves completely to our grooms and their marriage. We will always be Nathalia and Pedro present from beginning to end. Offering the best of us, our photography expressed through all our creative force. Our soul, always.
Here it is, the best of us and of course, the best of Filipa and André in ther wedding. Smiles, kisses, hugs and Love, much LOVE!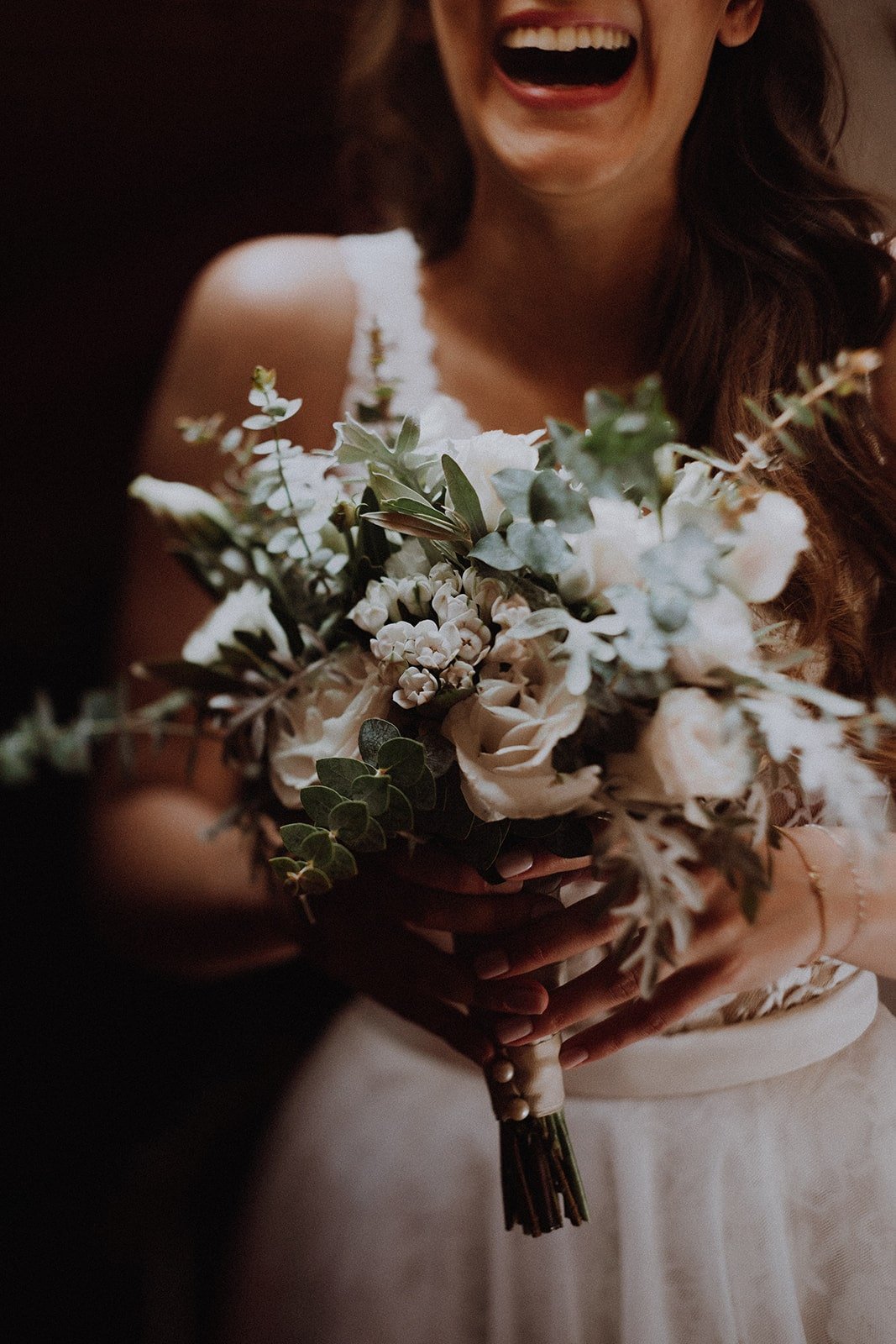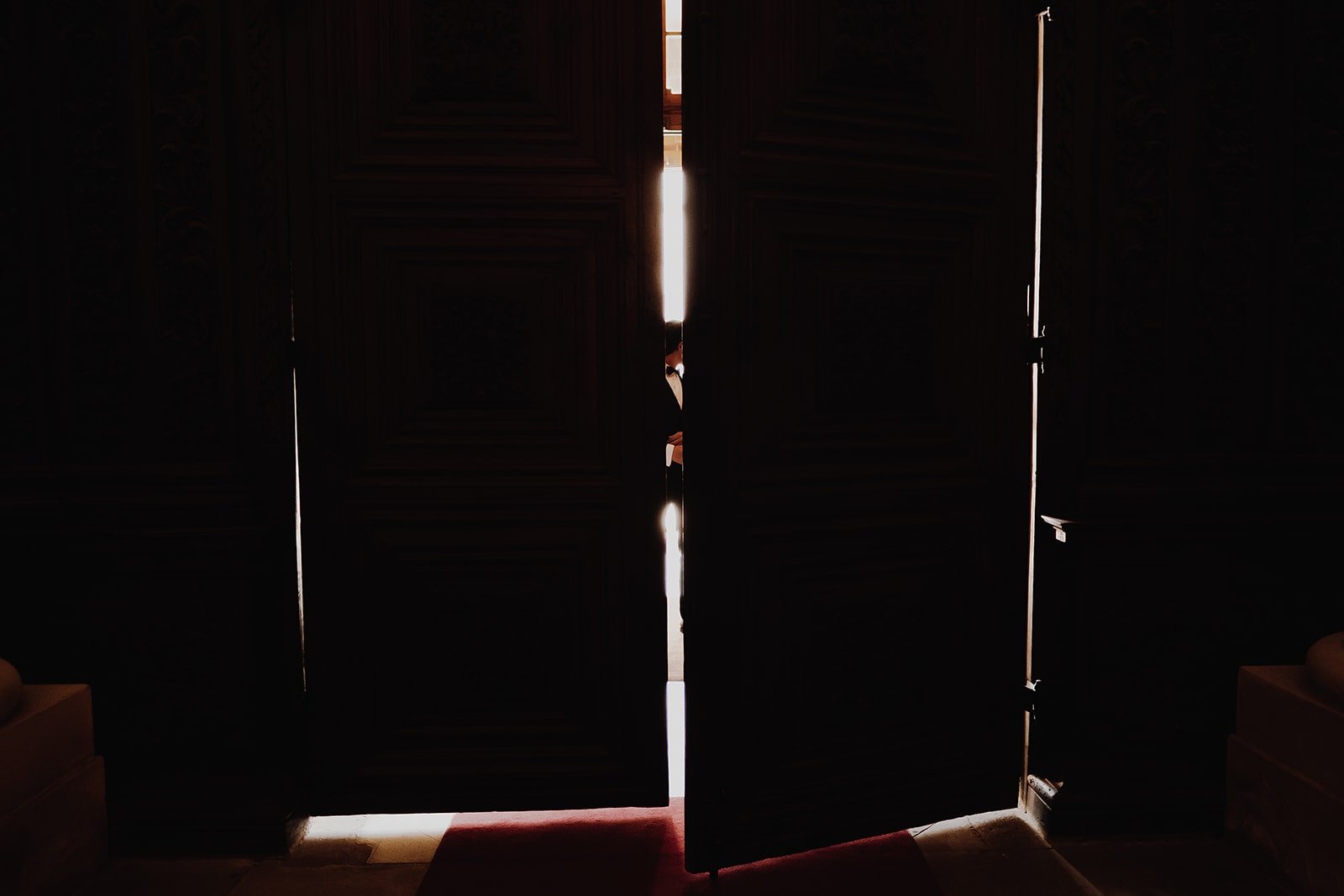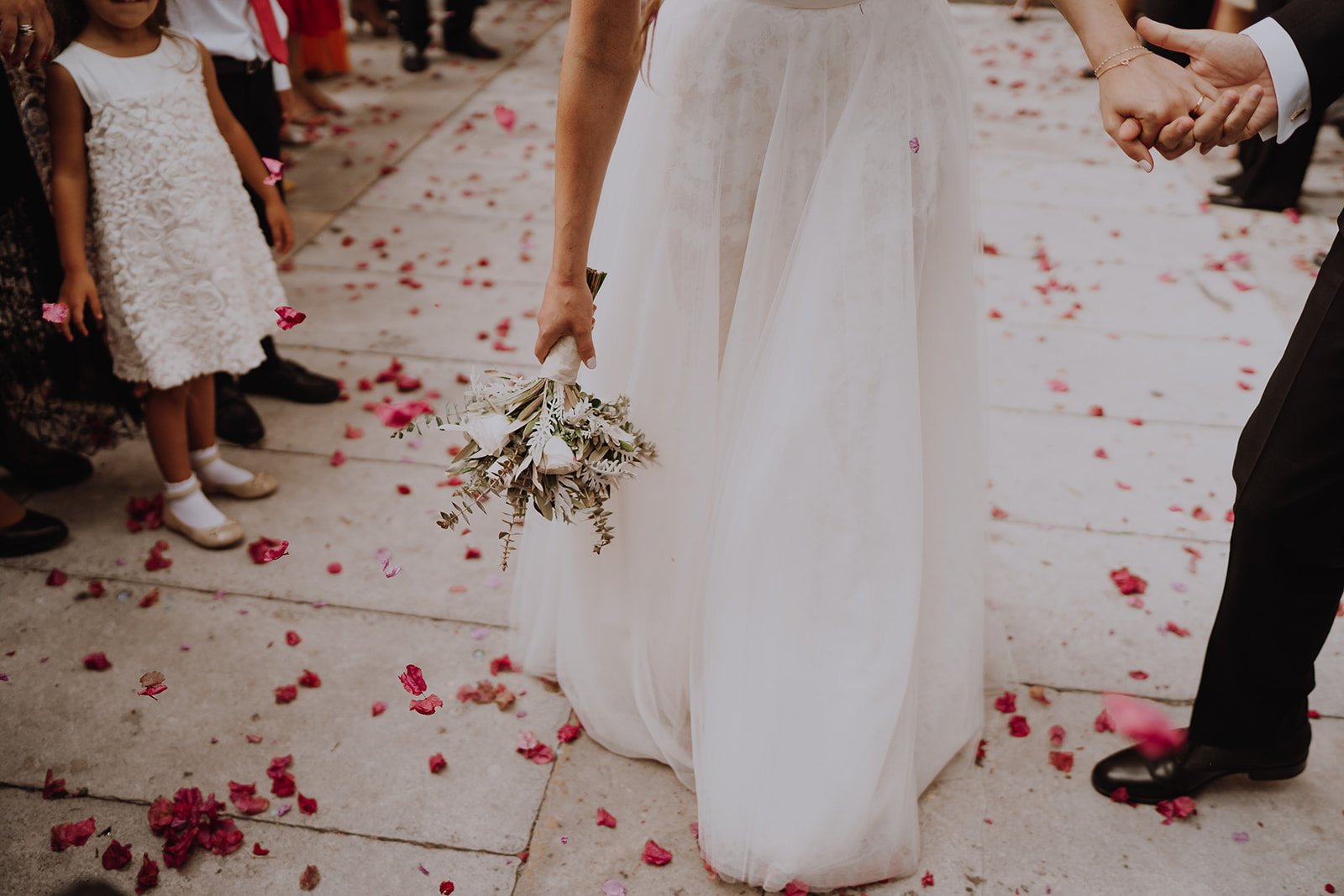 Casamento na Quinta do Monte Redondo, nos conectando com o Casal
PT: André e Filipa tem duas características que nos fizeram identificar muito. Primeiro o sorriso fácil dos dois: sorriem com uma facilidade impressionante, demonstram o amor com muita leveza e se olham com uma admiração difícil de descrever. Depois vimos o companheirismo, vocês seguram um na mão do outro e podemos perceber que sempre caminharão juntos pra onde for necessário. Nos fez lembrar de nós, obrigado por isso!
EN: André and Filipa have two characteristics that we identify with. First their easy smile: they smile with impressive ease, show their love very lightly, and look at each other with an admiration that is hard to describe. Then we saw the fellowship, they hold each other's hand and we can see that they will always walk together wherever is need. It reminded us of ourselves, thanks for that!
Casamento na Quinta do Monte Redondo - Uma das quintas mais completas em Coimbra!
PT: A Quinta do Monte Redondo é um espaço para eventos situado em Areal, Coimbra e consideramos uma das mais completas e ao mesmo tempo minimalistas quintas que já fotografamos.
Primeiro tem uma area verde maravilhosa, um campo lindo que é possível ver o por do sol incrível lá no horizonte. Para fotos fica maravilhoso porque para a Sessão dos Noivos conseguimos nos organizar para pegar a chamada golden hour. Nós adoramos a natureza e fotografar em locais verdes nos faz sentir abraçados pela mãe terra.
Não foi da escolha dos noivos, mas é possível fazer tudo na Quinta, desde a preparação deles, até a Cerimonia de Casamento Civil. Todos os dois quartos para preparação têm uma luz mesmo muito boa e a cerimonia tem como plano de fundo um campo aberto com montanhas ao fundo.
Tem também uma linda magia a noite, quando acaba a luz natural, o staff da Quinta do Monte Redondo ligou as luzes em um Varal de Luzes em gambiarra, maravilhoso! Que lindo, parecia um filme.
Além disso, nós como fornecedores fomos muito bem tratados pelos staff e a dona da Casa. Nos deixaram entrar na casa dela para fazermos uma foto de cima. Gratidão por termos compartilhado esse momento lindo!
EN: Quinta do Monte Redondo is an event space located in Areal, Coimbra and we consider it one of the most complete and yet minimalist venues we have ever photographed.
First it has a wonderful green area, a beautiful field where you can see the amazing sunset over the horizon. For photos it is wonderful because for the Bride and Groom Session we can organize to catch the golden hour. We love nature and shooting in green places makes us feel embraced by mother earth.
It was not the choice of the bride and groom, but it is possible to do everything on the Venue, from their preparation to the Civil Wedding Ceremony. All two preparation rooms have very good light and the ceremony is set against an open field with mountains in the background.
There is also a beautiful magic at night, when the natural light is gone, the staff of Quinta do Monte Redondo turned the lights on a Gambiarra Light Line, wonderful! How beautiful, it looked like a movie.
In addition, we as suppliers were treated very well by the staff and the housekeeper. They let us into her house to make a photo from above. Thank you for sharing this beautiful moment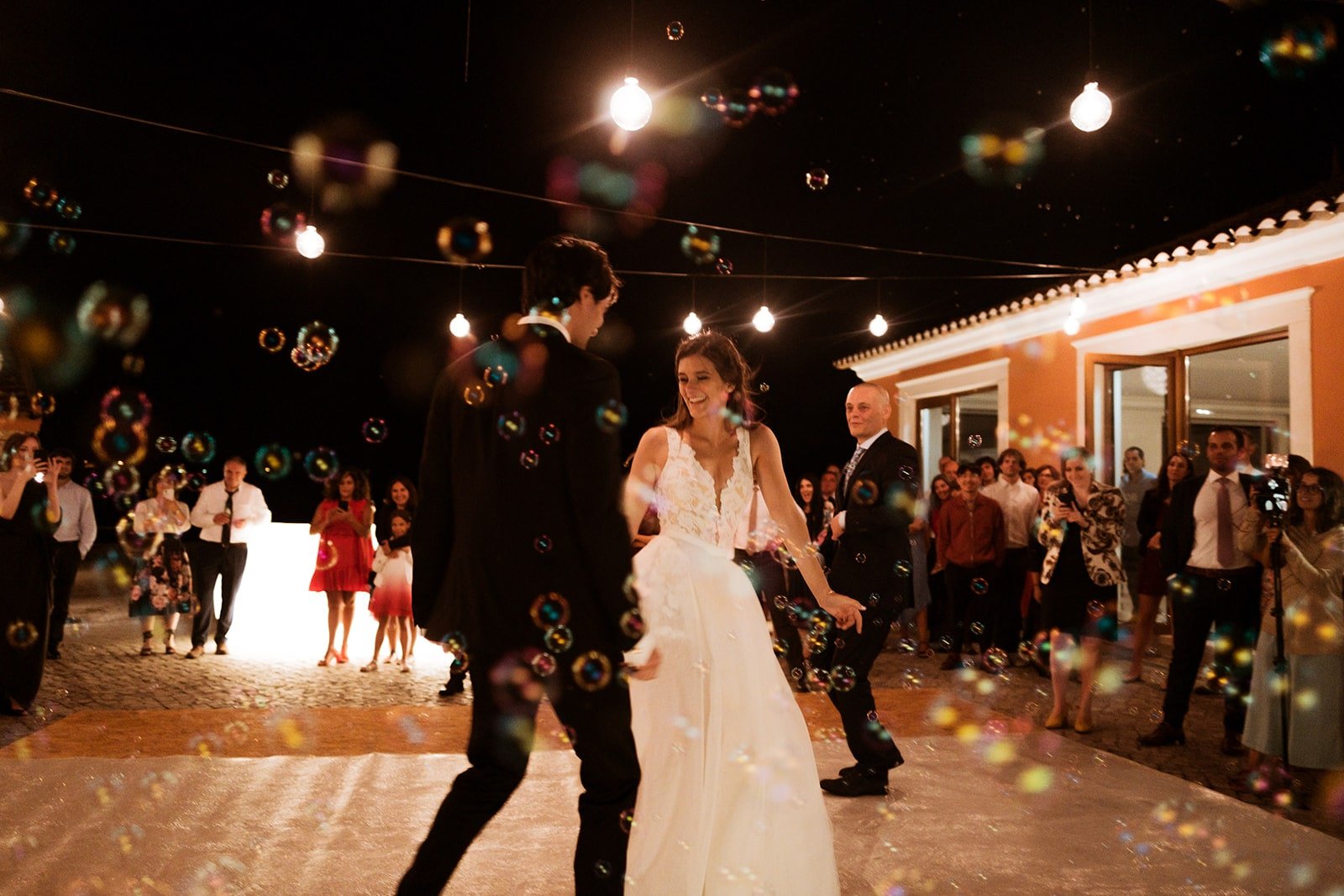 Andre & Filipa - Nós Somos Gratos!
PT: Muita gratidão e amor por esse lindo casamento! Desejamos a vocês, André e Filipa, as melhores coisas da vida! Que os sorrisos se alarguem a cada dia e que tenham muitas flores no caminho!
Nós amamos fotografar esse Casamento em Coimbra! A festa ao ar livre com as luzes de filamento e a vista para o pôr-do-sol deixaram tudo mágico!
A Quinta do Monte Redondo nos despertou a criatividade para fotografar a noite e ao por-do-sol. Mostrou personalidade com a decoração minimalista e nos tratou muito bem em todos os aspectos.
EN: Much gratitude and love for this beautiful wedding! We wish you, André and Filipa, the best things in life! May the smiles widen everyday!
We love photographing this Wedding in Coimbra! The outdoor party with the filament lights and sunset view made it all magical!
Quinta do Monte Redondo has awakened our creativity to photograph at night and at sunset. They showed personality with the minimalist decor and treated us very well in all respects.
Com amor, Nathalia e Pedro
Image: Lovati Photography
Film: João Rosa Visuals
Makeup: Elisa Almeida Makeup
Suit: Hugo Boss
Dress: Blanco de Novia
Stationary: Filipa (the bride)
Venue & Decor: Quinta do Monte Redondo
Church: Sé Nova de Coimbra
Quer que a sua história de amor seja contada por nós? Vamos nos conhecer e ter um bom tempo juntos! Clique aqui para nos mandar uma mensagem!