Engagement Session in Coimbra – Janete & David
Celebrating the new moment that arrives with an Engagement Session in Coimbra was a great request!
For us it was a historic trip because we were able to walk through the streets of the university, see the sunlight passing through the small streets and being able to photograph a couple who will be married there – they met in college and lived lots of moments together since unpretentious meetings to officialize their love. Now, many years later they will get married there.

More meaning than that impossible. We're always seeking for meaning in the little details around us.
Coimbra – Engagement Session in Coimbra
Coimbra is a city that has a little more than 140 thousand inhabitants, which about 25% are students. A good part foreigners, who comes to study at one of the oldest universities in the world.
Very historic, it has all the architectural structure very similar to the main historical cities of Portugal with a different look, since most of the buildings are institutes of the University of Coimbra. We ran into some student republics, monuments, graffiti-style paintings, showing the young soul of the city.
Coimbra, as Janete and David told us, is a city of passage, so the word that only exists in Portuguese vocabulary, "saudade" has a big presence, since students spend there 3 to 6 years and go to the work market in Porto, Lisbon or another countries.
Also as we walked through the streets, Janete and David told us good stories of what they lived there, the pranks that students makes with each other, the legends, the stories bringing more meaning to this Engagement Session in Coimbra.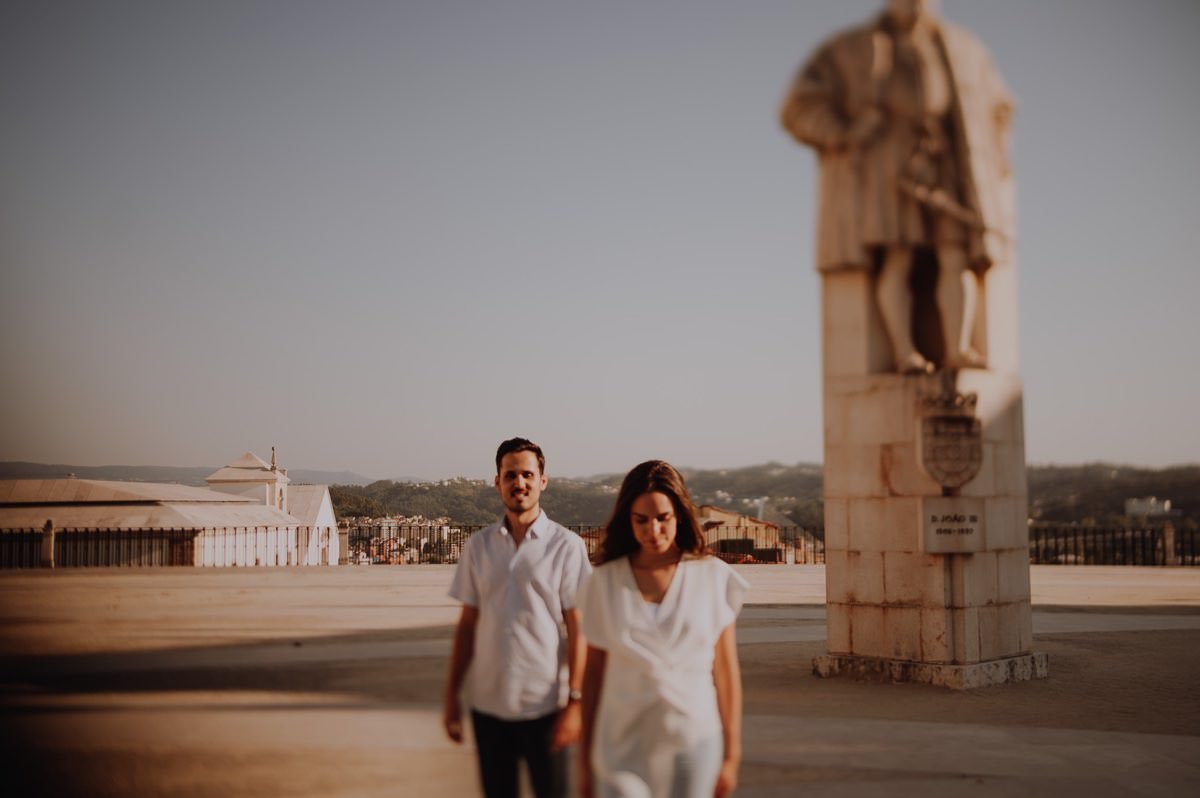 Janete + David + Chilli – Engagement Session in Coimbra
We really like to connect and create bonds with our couples. To find out about their history, how they see themselves, characteristics, feelings, what they usually do and what they really like. Listening is also the work of a photographer. How could we photograph someone without not connecting? How can we connect without knowing who we want to connect to?
But beyond the first meeting, we need more. The Engagement Session in Coimbra was an important step so that at the wedding day they can be more comfortable with us. And also a prelude that more is coming, new meetings, yes please!
We asked them to write a little about their history, by e-mail and we received Janete's reply telling us. We read and identify ourselves very much. First to see how their love prevailed for so many changes and that they got together in the end, it seemed like a beautiful romantic comedy – those that we know what will happen in the end, but we are still looking forward to it happening soon. Then, due to the way they described themselves, it was another sample that we attract people like us and for some reason come to meet us to learn together.
And Chilli? We are lovers of any type of pet we see around, our attention deficit is incredibly sharp when we see a dog on the street. And with Chilli it was no different, we felt his happiness for being in that family. Taking your pet to a session is really cool, it is a tip to make the day even more filled with meaning.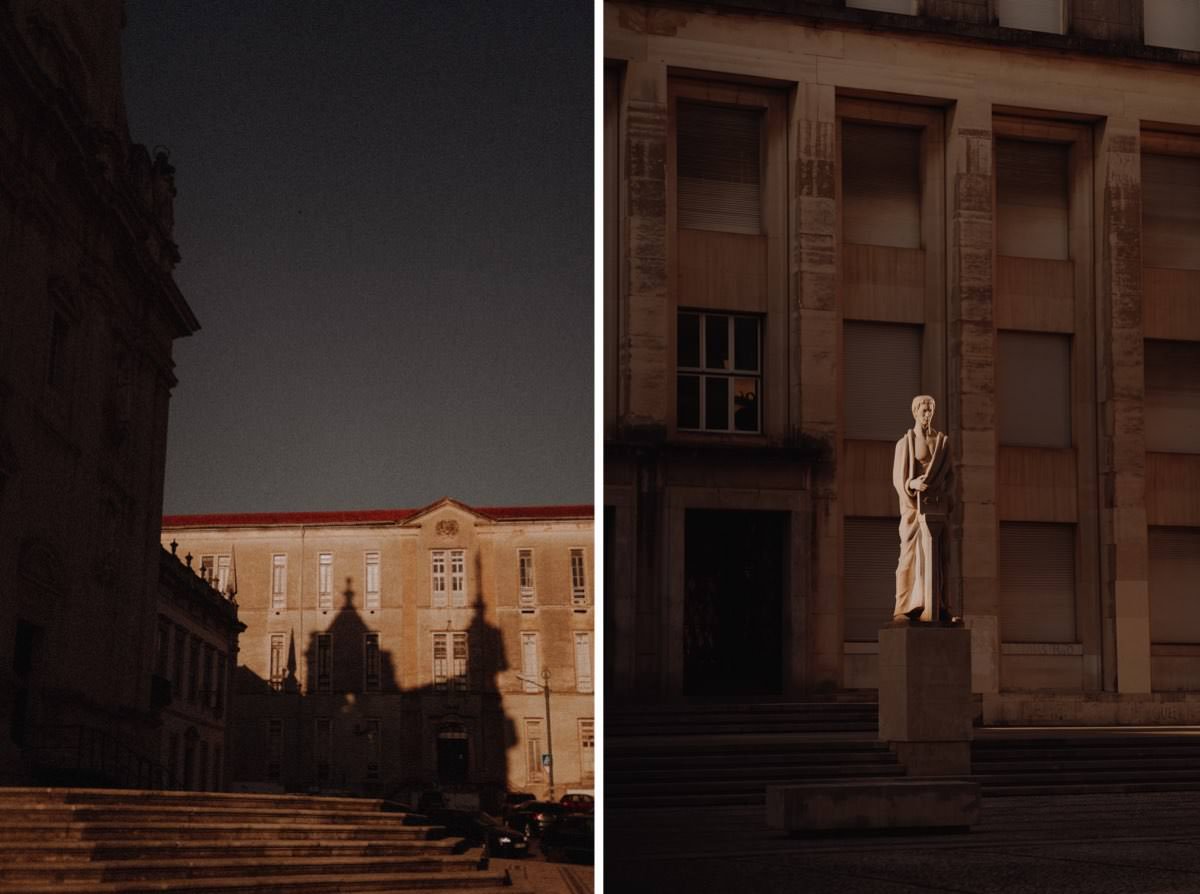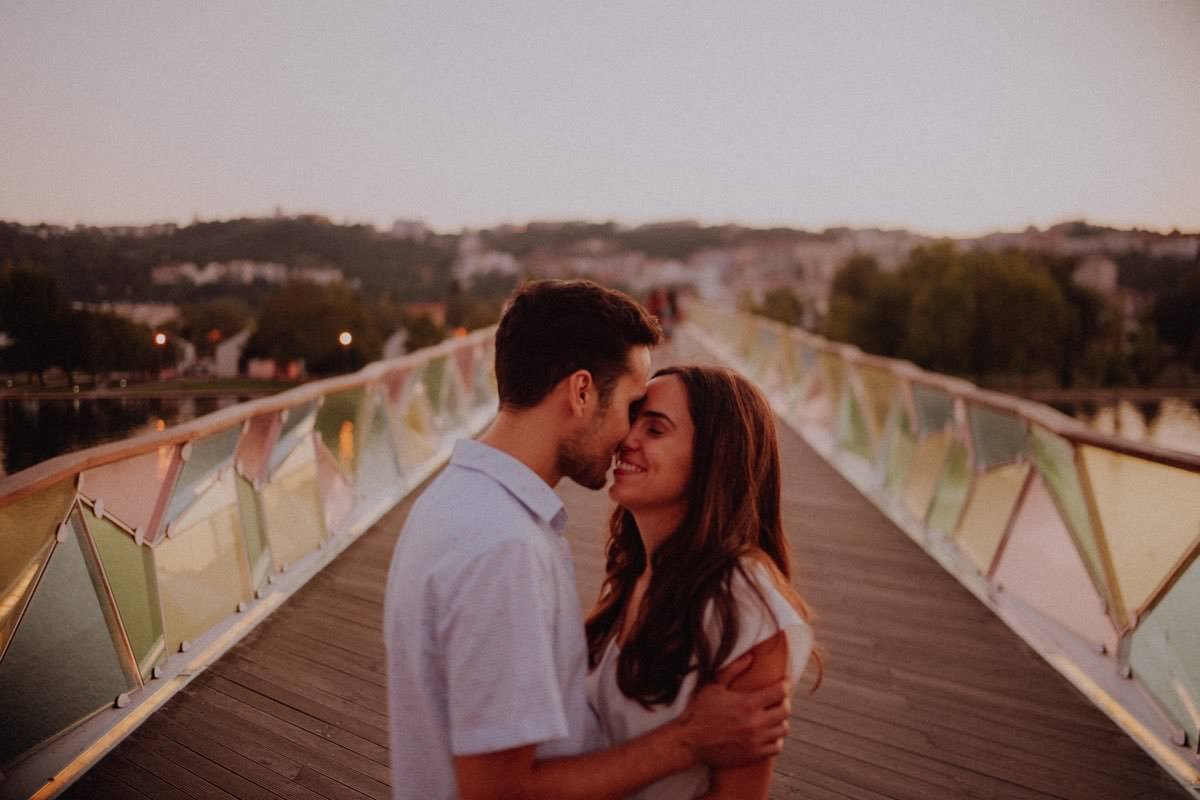 Thank you very much guys for letting us be part of this historic trip through Coimbra, for this incredible trip that is your story and next year there is more!
The wedding! The best is yet to come!
With much love and affection,
Pedro and Nathalia