Same Sex Intimate photographer – Leticia & Tais
Photographing intimate sessions is always a dive for us and for the couple, as a same sex intimate photographer we feel privileged to share such beautiful emotions, being responsible for recording these moments is enriching in a way that we will hardly be able to explain. It moves us and fills us.
Leticia & Tais | Same Sex Intimate photographer
With a unique way of expressing love, Tais and Leticia guided us through the process. Usually we are the ones who do this, guide the couples, take them out of the normal static, provide interesting moments for the photos among other things.
This time it was different, what we did was to choose the position in relation to the light, how they could sit and they brought the magic with the touch, their eyes, their laught. They were feeling. We as spectators and photographers couldn't be more satisfied and happier.
The result was a little bit of that, letting the magic happen between them, the characters in the story itself.
To make the story more interesting: the day after the session they would live together, Leticia would leave Rio de Janeiro – Brazil to live with Tais in São Paulo – Brazil. We heard their story and we saw a lot of similarities with ours.
In addition to Nathalia having studied with Leticia, we photographed her sister Evelyn's Wedding in Ireland (click here to see how it went) and we also photographed her other sister Yasmin.
This session completed the triad and ended up photographing this amazing family!
We are grateful to have known these three beautiful souls.
COLORS - SAME SEX INTIMATE PHOTOGRAPHER
Colors and their representations, love in its various forms have meanings such as: sex, life, healing, sun, nature, magic/art, serenity and spirit. They all form the most beautiful flag there is, the flag of bravest and real love. The rainbow flag. 
At that moment, with the help of a projector, we could float through dimensions, sensations and colors. These clicks came from pure intuition, shooting in a setting like that was different for us, but easy at the same time. Leticia and Tais were giving themselves to each other. It was so beautiful.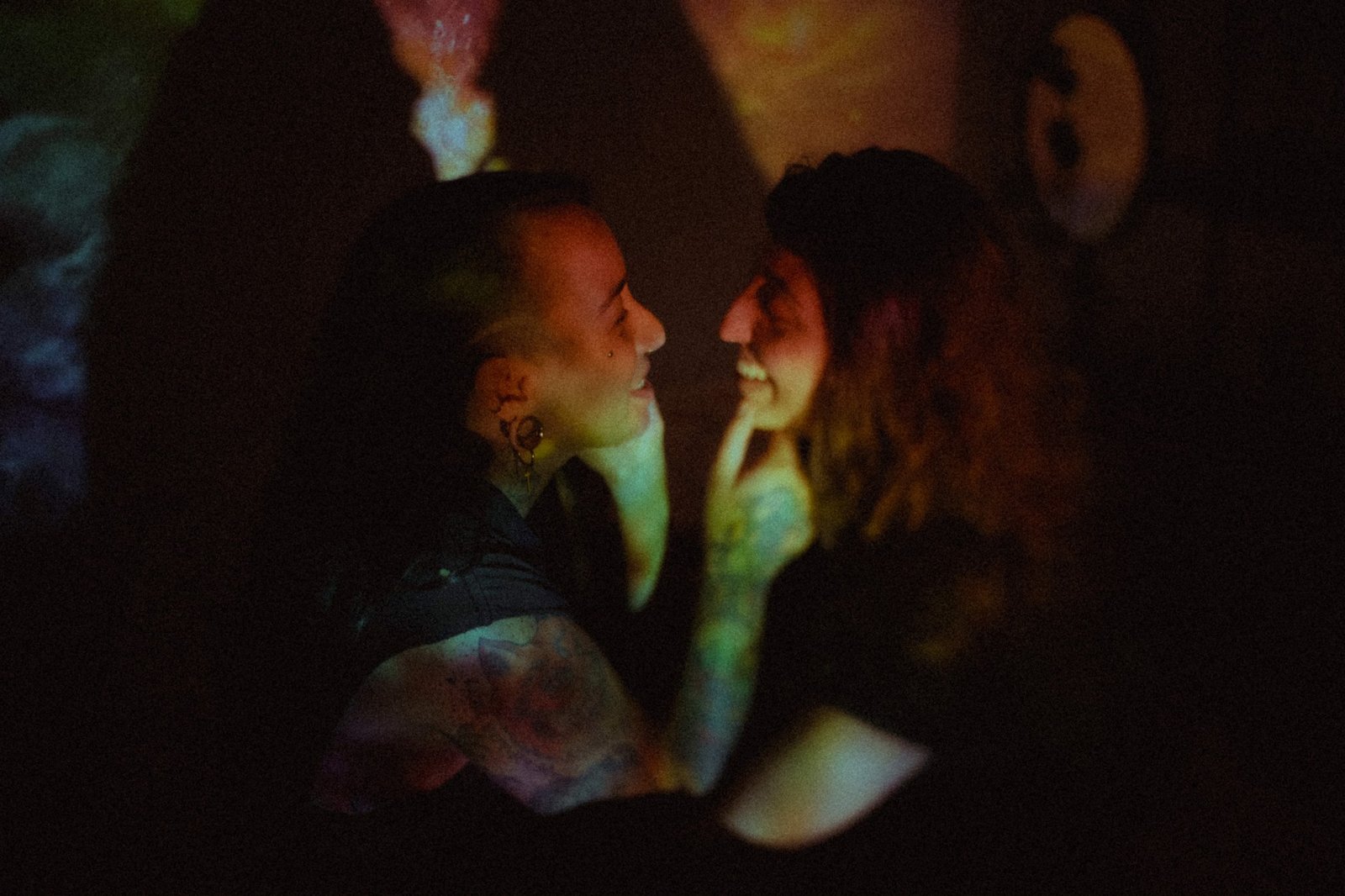 Same Sex Intimate Photographer - Inspiration
We wrote this blog post and photographed this beautiful day very inspired by the love of Leticia and Tais, also inspired by the LGBTQIA+ community that fights for the right to love and this beautiful song below:
(Click here for the English translation)
"O que vão dizer de nós?
Seus pais, Deus e coisas tais
Quando ouvirem rumores, do nosso amor
Baby, eu já cansei de me esconder
Entre olhares, sussurros com você
Somos dois homens, e nada mais
Eles não vão vencer
Baby, nada há de ser, em vão
Antes dessa noite acabar
Dance comigo, a nossa canção!
E flutua, flutua
Ninguém vai poder, querer nos dizer como amar
E flutua, flutua
Ninguém vai poder, querer nos dizer como amar
Entre conversas soltas pelo chão
Teu corpo teso, duro, são
E teu cheiro que ainda ficou na minha mão
Um novo tempo há de vencer
Pra que a gente possa florescer
E, baby, amar, amar, sem temer
Eles não vão vencer
Baby, nada há de ser, em vão
Antes dessa noite acabar
Baby, escute, é a nossa canção
E flutua, flutua
Ninguém vai poder, querer nos dizer como amar
E flutua, flutua
Ninguém vai poder, querer nos dizer como amar
Como amar
Como amar
Ninguém vai poder, querer nos dizer como amar
Como amar
Como amar
Ninguém vai poder, querer nos dizer como amar"
So that everyone be free to manifest love, in the most varied ways that exist!
With love,
Pedro & Nathalia