Sunrise Engagement Session in London with Carolina and Gonçalo
Photographing is what moves us and photographing a Sunrise Engagement Session in London was simply amazing! It was like waking up but keeping inside a dream, every aspect of that day was incredible. Moments before the sun, moments when the sunlight appeared, the walking we did through the city, from parks with beautiful nature, old cinemas, antiques fairs, watching the dusk on the streets of London, registering the love of Carolina and Gonçalo, tasting amazing street food and having mulled wine at Borough Market. Everything perfect!
Sunrise Engagement Session in London
Our first stop was an incredible view of the city of London, where we were able to see the sunrise and feel the first heat of the day, in addition to being a beautiful and green park, where people can walk their dogs, running and cycling.
But everything starts very dark, a blue light with the moon, which turned to purple, and than the orange color of the light, pure magic! The day was cold and so we could see the grass with the night frost. It was beautiful to see nature waking up for another day. We also woke up and barely knew what adventure that day would be and how beautiful the sky and the light would be.
Good morning!
Carolina and Gonçalo – The best is yet to come!
From the beginning, Carolina told us about her huge desire to photograph at sunrise, because she saw in our portfolio (Elopement Wedding in Rio de Janeiro) and got enchanted by the colors of that wedding. We feel honoured when people enjoy that much something that we've done and we feel very happy when a couple wants to take photos at the sunrise because the locations are always less crowded and there is this magical moment that we can feel the nature waking up.
Gonçalo was more reserved at the beginning, we also woke up very early that day, it was cold and he wasn't so used to cameras. We think this is quite normal, nobody is used to being photographed. And as our photography seeks spontaneous, free moments, we try to connect with the couple, leave them at ease and I think we succeeded. As the day went by, both Gonçalo and Carolina became more and more comfortable, laughing, kissing, exchanging affection as if we weren't there. It was all very light and fluid.
With a clear and light connection, Carolina and Gonçalo lavish love and show that the meetings need to happen in one way or another. These two are Portuguese and went to meet in London, can you believe it? They are getting married in June and we will have a great honor of photographing their big day!
The best is yet to come!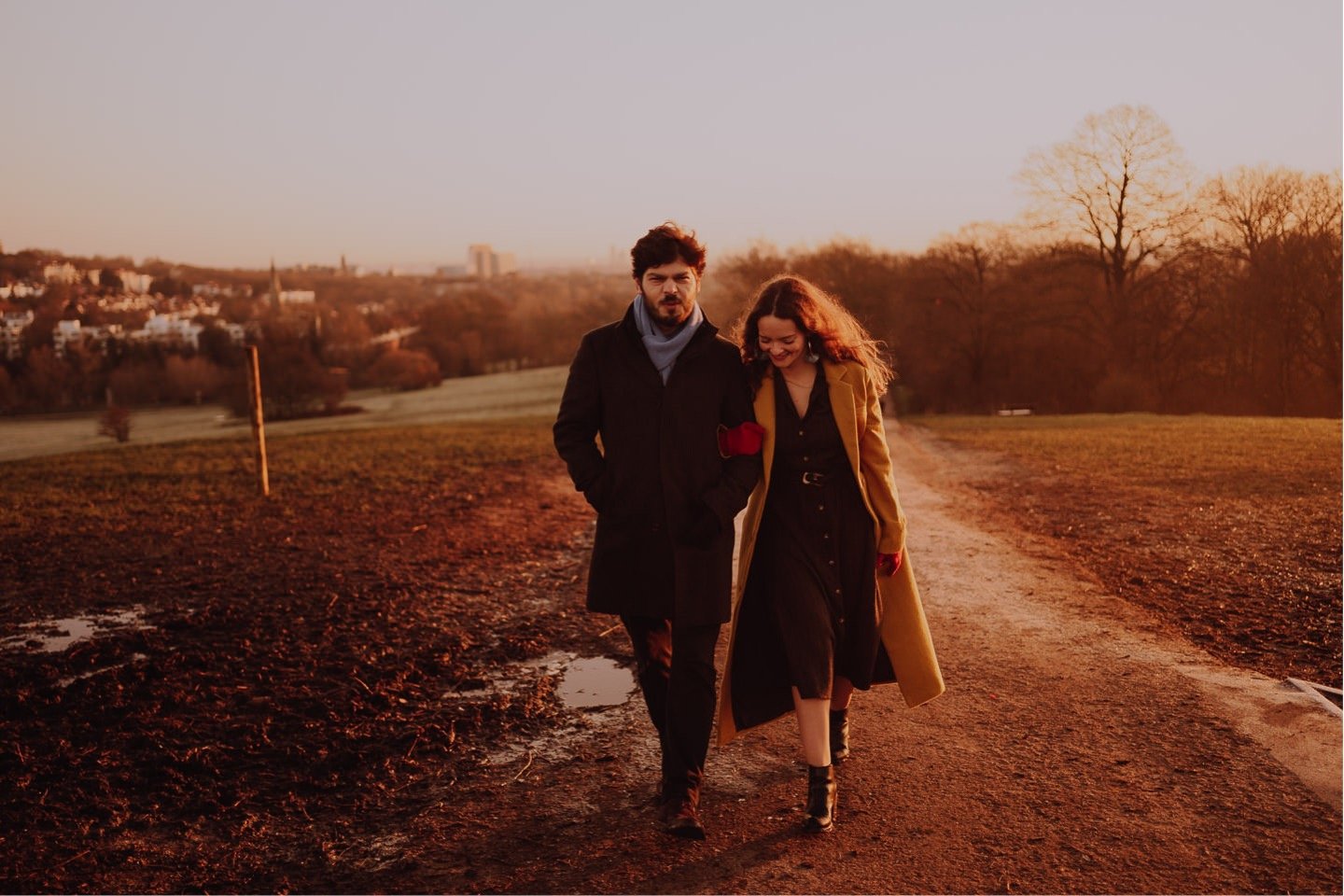 Walking through London streets -Sunrise Engagement Session
London is really an amazing city, everywhere we look is a different surprise, our mind has opened up a lot when we visited it and our creativity expanded in an impressive way. And for us, who like to be challenged, shooting in a different place is always the best thing.
The light was incredible, the streets with art everywhere, the buildings range from the most modern in the world, to vintage cinemas. It is really the center of the world, immense ethnic and multi-cultural diversity. We love to live in this atmosphere, leave the comfort zone, live the different, we are grateful to know this incredible city and hope this spirit spread to everywhere.
The Camden Passage in Angel
In this type of engagement session, we always try to record a day as if it were normal for the couple, a walk that they usually take, so that they can remember what it was like to live that phase of life and to feel comfortable doing something they are used to. We look for truth in photographs.
In this small street we can see very interesting, different, very old articles, different stores, play with the way the light hit the walls and photograph our lovebirds as they love to walk around those places to have a coffee and to hunt some old but gold stuffs at the Camden Passage in the beautiful Angel neighbourhood.

The Borough Market
To end this incredible Sunrise Engagement Session in London, we went to Borough Market, an unusual market, one of the most different places we have ever been when it comes to selling food, vegetables, sweets and typical foods.
It was like once visiting La Boqueria in Barcelona, knowing small businesses delights us, good and cheap food, beautiful mushrooms and a great experience. It was great to end the day with a nice meal and great laughs with Carolina and Gonçalo in this Sunrise Engagement Session in London, it is a place you must go when visiting London!


Thank you Carolina and Gonçalo for having us to this Sunrise Engagement Session in London. We're looking forward to photograph your wedding in Porto. And mainly, we feel very lucky because we also made two friends.
This is us together <3
A story told is a life lived.

With Love,
Nathalia and Pedro