Elopement Wedding in Santorini – The Sunset Wedding
This Elopement Wedding in Santorini took our breath away, as well as the whole trip through Santorini – Greece, every place we discovered was simply wonderful and we just could appreciate and thank. We were there for our work, what we love to do, our way to express ourselves took us to one of the most beautiful places we had been in our lives. What else could we ask for?
What is an elopement wedding?
Geovana and Adriano had already married in Brazil, with a big party that had friends and family, with a ceremony in the church and all the traditional details.
But they wanted more, they wanted a more intimate celebration, after all they deserved it. An Elopement Wedding is a great option for those who want this type of intimacy.
It is when the couple decides to get married away from family and friends, or less than 10 people around them. It is a very intimate way to celebrate. For those who are very very selective with the friends they want around, or if the couple decides do get married in another country to make a dream come true or a special place in their story.
Our experience with elopement wedding is always incredible, because the bride and groom feel very comfortable to express the love they feel. A thousand emotions always, with less filters.
Elopement Wedding in Santorini - The bride and the bouquet
In this Elopement at Oia, Geovana was carring a beautiful floral art made by Wedding Wish Santorini and what we liked most about that Bouquet was that it had components from the Santorini flora and built in a very organic way, just incredible!
We completely loved the wedding dress. The way this dress flew with the wind is simply gorgeous. A dress can be beautiful with laces and other details but when it's simple, the shapes highlights the curves of the body and everything gets naturally beautiful. We think it's magical, like a fairy wedding dress.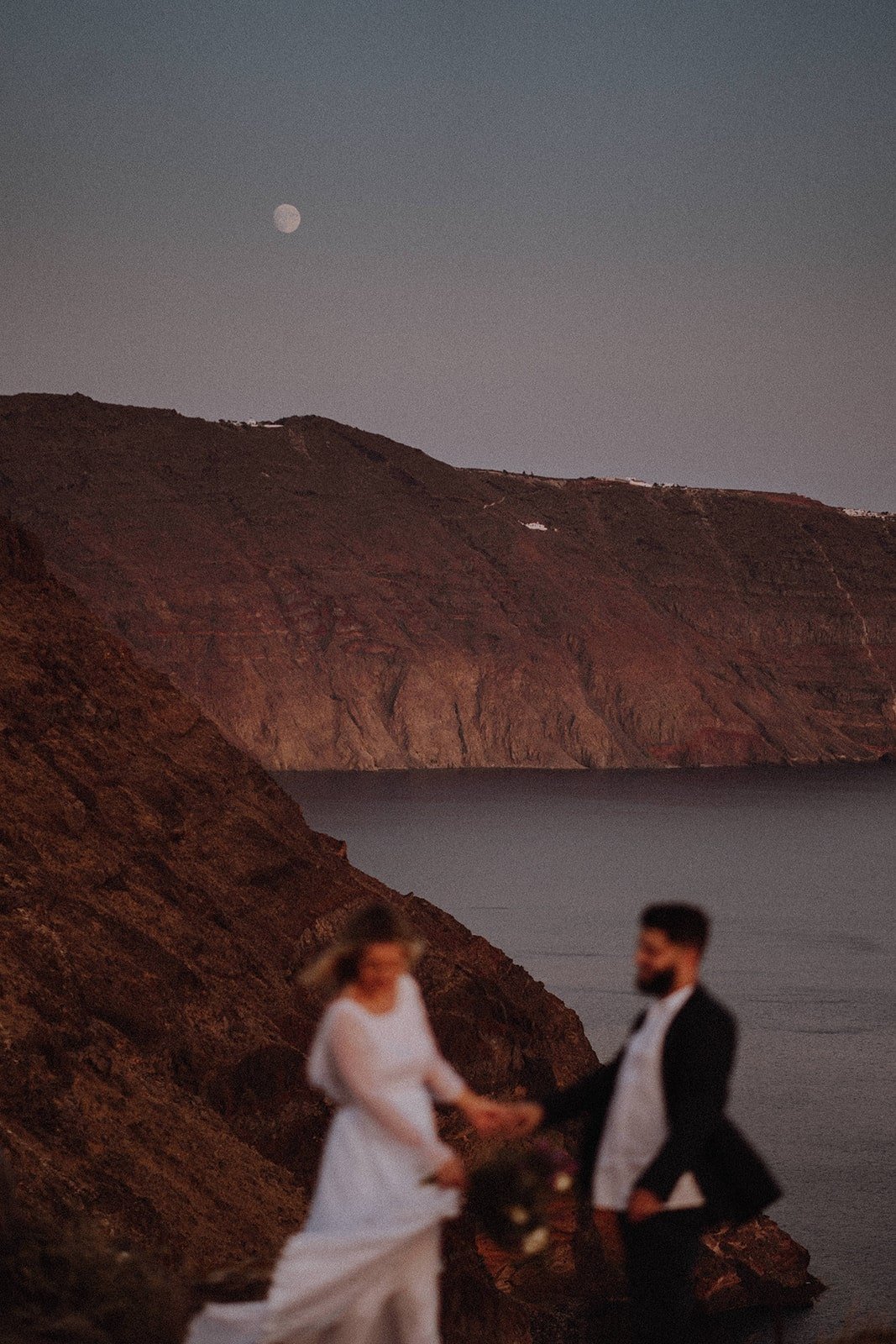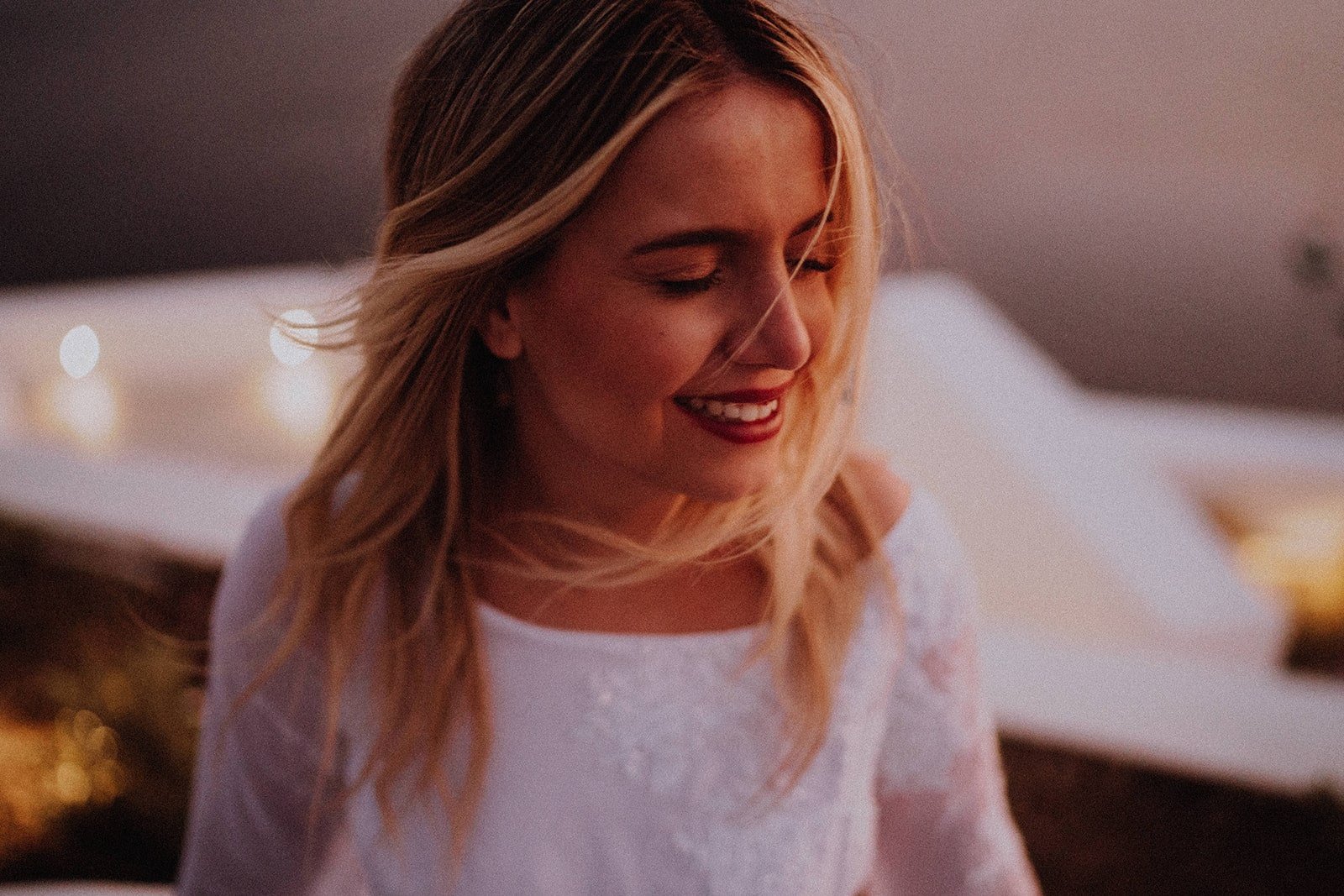 Elopement Wedding in Santorini - walking in paradise
Walking through the streets of Oia is simply incredible, it seems that we are living a little bit of that old film "Shirley Valentine", the caves architecture, everything white to reflect the sun, and get transported to another time when they used to sculpt by hand all the walls inside the stones, and when you walk between the buildings it is very beautiful and not to mention that we always find the horizon in front of us, in the background we can reach the cliffs. At the sunset, in one side we see the sun going down and in the other side we see the moon. Absolutely stunning, wonderful!
The Couple - Elopement Wedding in Santorini
Our connection with the couple was extraordinary, we speak the same language (literally the same). They are Brazilians and so are we, from Rio de Janeiro and we are too… They visited Santorini for the first time and us as well, They are in love and so we are!
Perfect timing meeting us there, in Santorini, Greece, is the answer that there are no coincidences. – Whoever accompanies us here knows that we always talk about these extraordinary coincidences, I think it is because we always look for similarities with our couples, never differences and we trust the Universe always has better possibilities than our minds can provide.
Elopement Wedding in Santorini- A wonderful Sunset in OIA
Seeing the Sunset in Santorini is like entering an adventure, for us as photographers and admirers of nature, it seems that everywhere we look we experience a different emotion.
From the warm colors that always fascinate us, to the way the sunlight reflects on the water, the cliffs lighting up with the orange of the sun, the moon is incredibly striking because when the sun goes down we can already feel its presence. All the sky starts to get purple, it's a big performance from mother nature and as a final touch we see the Santorini lights turning on, which is spectacular.
Thank you so much Giovanna and Adriano for this amazing experience, and to trust in our work to have this special moment eternalized.
We hope to come back to Santorini soon! If you're planning your wedding there, let's talk!
With Love, Nathalia and Pedro.